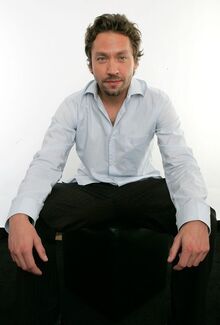 Michael Weston (born October 25, 1973) is an American television and film actor. His best-known roles are the private detective Lucas Douglas on House, the homicidal meth addict Jake in the critically acclaimed HBO drama Six Feet Under and Pvt. Dancer on Scrubs.
He plays Harry Houdini on Houdini & Doyle (TV Series).
Personal life
Edit
Weston was born Michael Rubinstein in New York City, the son of actors Judi West and John Rubinstein, the grandson of piano virtuoso Arthur Rubinstein and the great-grandson of conductor Emil Młynarski, the founding conductor of Warsaw Philharmonic Orchestra and principal conductor of the Scottish Orchestra.
He holds a degree in Theater and Arts from Northwestern University. In 2000 he changed his surname to "Weston" as there was already a "Michael Rubinstein" in the Screen Actors Guild. He has been married to musician Priscilla Ahn since 2010.
Acting career
Edit
Weston is a good friend of actor Zach Braff and has appeared in three features with him, Garden State, Wish I Was Here and The Last Kiss, and as a guest star on Braff's television show, Scrubs. Weston has also appeared as Simon Marsden, Olivia Benson's half-brother on Law & Order: Special Victims Unit.
Weston appeared in the fifth season of House as a private investigator named Lucas Douglas hired by Dr. Gregory House; he reappeared in season six. Series creator David Shore planned a spin-off show with Weston's character as the lead in 2008, but the show never went into production.
In 2009, Weston appeared in the Gerard Butler action film Gamer. He made a guest appearance on Burn Notice. In 2012, he starred in the A&E television movie, Coma.
Filmography
Edit
Year
Title
Role
Notes
2000
Coyote Ugly
Danny
Sally
Bugs
Credited as Michael Rubenstein
Cherry Falls
Ben
2002
Wishcraft
Brett Bumpers
Hart's War
Pfc. W. Roy Potts
Evil Alien Conquerors
Kenny
2004
Helter Skelter
Bobby Beausoleil
Television movie
Garden State
Kenny
2005
The Dukes of Hazzard
Deputy Enos Strate
2006
The Last Kiss
Izzy
2007
Wedding Daze
Ted
2008
Pathology
Dr. Gallo
2009
State of Play
Hank
Crank: High Voltage
Paramedic
Gamer
The producer
2010
Love, Wedding, Marriage
Gerber
2011
The Brooklyn Brothers Beat the Best
Jim
2012
Liberal Arts
Miles
2013
Expecting
Casey
2014
Wish I Was Here
Jerry
2015
See You in Valhalla
Don Burwood
2015
Gravy
Anson
Television
Edit
| Year | Title | Role | Notes |
| --- | --- | --- | --- |
| 1998 | Night Man | | Episode: 1.17 "Chrome II" |
| 2003 | Frasier | Ice Sculptor | Episode: 10.14 "Daphne Does Dinner" |
| 2004 | Monk | Morris | Episode: 3.7 "Mr. Monk and the Employee of the Month" |
| 2004 - 2005 | Six Feet Under | Jake | Episodes: 4.5 That's My Dog", 4.8 "Coming And Going", 4.12 "Untitled", 5.10 "All Alone" |
| 2006 | ER | Rafe Hendricks | Episodes: 12.22 "Twenty-One Guns", 13.1 "Bloodline" |
| 2006 | Saved | Tim Reston | Episode: 1.2 "The Lady & the Tiger" |
| 2007, 2014 | Psych | Counselor Adam Hornstock | Episode: 1.12 "Cloudy...Chance of Murder" Remake A.K.A. Cloudy... With a Chance of Improvement |
| 2007 | Scrubs | Private Brian Dancer | Episodes: 6.7 "His Story IV", 6.9 "My Perspective", 6.10 "My Therapeutic Month", 6.12 "My Fishbowl" |
| 2007 - 2012 | Law & Order: Special Victims Unit | Simon Marsden | Episodes:8.13 "Loophole" 8.16 "Philadelphia," 8.19 "Florida", 8.22 "Screwed", 13.16 "Child's Welfare" |
| 2008 - 2010 | House]] | Lucas Douglas | Episodes: 5.2 "Not Cancer", 5.3 "Adverse Events", 5.5 "Lucky Thirteen", 6.7 "Known Unknowns", 6.8 "Teamwork", 6.9 "Ignorance Is Bliss", 6.12 "Remorse" (cameo), 6.13 "Moving the Chains", 6.14 "5 to 9", and 6.18 "Knight Fall" |
| 2009 | CSI: Crime Scene Investigation | Ryan Morton; Tripp Linson; Carsten | Episode: 9.15 "Kill Me If You Can" |
| 2009 | NCIS: Los Angeles | LAPD Detective John Quinn | Episode: 3.10 "The Debt" |
| 2009 | Supernatural]] | (young) Charlie | Episode: 4.12 "Criss Angel is a Douche Bag" |
| 2009 | Burn Notice | Spencer | Episode: 3.5 "Signals and Codes" |
| 2010 | The Good Guys | Carson | Episode: 1.17 "The Getaway" |
| 2011 | CSI: New York | Frank Waters | Episode: 8.9 "Means to an End" |
| 2012 | White Collar | David Cook | Episode: 4.03 "Diminishing Returns" |
| 2012 | Coma]] | Peter Arno | 4 hour TV movie based on 1978 novel by Robin Cook |
| 2012 | Gus | Casey | |
| 2013 | The Office]] | Staffer at Philadelphia real estate office Pam has interview at | Episode: 9.16 "Moving On" |
| 2014 | Those Who Kill | Space Cowboy | Season 1: Episode 8 "Insomnia", Episode 9 "Untethered", Episode 10 "Surrender". |
| 2015 | Elementary | Oscar | Season 3: Episode 16 "For All You Know", Episode 24 "A Controlled Descent". |
| 2016 | Houdini & Doyle | Harry Houdini | Season 1 |
References
Edit